Don't look to the sky and gods for answers. It lies deeper.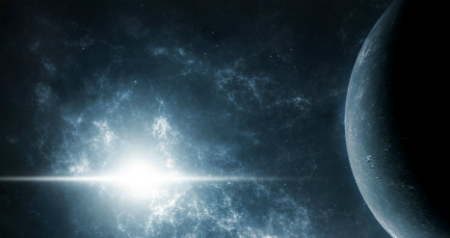 For over 300,000 years we've looked to the sky and gods for answers. We invented fire, landed on the moon, and even flung a piece of metal outside the solar system. But despite the development of super-proton-antiproton-synchrotrons, and now, superconducting-supercolliders that contain enough niobium-titanium wire to circle the earth sixteen times, we have no more of an understanding of why we exist than the first thinkers of civilized consciousness. Where did it all come from? Why are we here?
We're like Dorothy in "The Wizard of Oz," who went on a long journey in search of the Wizard to get back home, only to find the answer was inside her all along. The farther we peer into space, the more we realize that the secret of life and existence can't be found by inspecting spiral galaxies or watching distant supernovas. It lies deeper. It involves our very selves.
We've looked at the world for so long that we no longer challenge its reality. Here is the Universe: our sense organs perceive atoms and galaxies to some 14 billion light-years, although we can't see with the eye of reason, that the world is for us merely a bundle of sensations unified by laws which exist in our understanding. We can't see the laws that uphold the world; and that if they be removed, the trees and the mountains, indeed the whole Universe, would collapse to nothing.
"We are too content with our sense organs," Loren Eiseley once said. "It's no longer enough to see as a man sees — even to the ends of the universe." Our radiotelescopes and supercolliders merely extend the perceptions of our mind. We see the finished work only. In this world, only an act of observation can confer shape and form to reality — to a dandelion in a meadow, or a seed pod, or the sun or wind or rain. Anyway, it's impressive, and your cat or dog can do it, too. And perhaps even the spider, there on her web, moored outside my window.
We're more than we've been taught in biology class. We're not just a collection of atoms — proteins and molecules — spinning like planets around the sun. It's true that the laws of chemistry can tackle the rudimentary biology of living systems, and as a medical doctor I can recite in detail the chemical foundations and cellular organization of animal cells: oxidation, biophysical metabolism, all the carbohydrates, lipids and amino acid patterns. But there's more to us than the sum of our biochemical functions. A full understanding of life can't be found only by looking at cells and molecules. Conversely, physical existence can't be divorced from the animal structures that coordinate sense perception and experience (even if they, too, have a physical correlate in our consciousness).
It seems likely that we're the center of our own sphere of physical reality, connected to the rest of life not only by being alive at the same moment in the Earth's 4.5 billion year history, but by something suggestive — a pattern that's a template for existence itself.
Science has failed to recognize those properties of life that make it fundamental to our existence. This view of the world in which life and consciousness are bottom-line in understanding the larger universe — biocentrism — revolves around the way our consciousness relates to a physical process. It's a vast mystery that I've pursued my entire life with a lot of help along the way, standing on the shoulders of some of the most lauded minds of the modern age. I've also come to conclusions that would shock my predecessors, placing biology above the other sciences in an attempt to find the theory of everything that has evaded other disciplines.
We're taught since childhood that the universe can be fundamentally divided into two entities — ourselves, and that which is outside of us. This seems logical. "Self" is commonly defined by what we can control. We can move our fingers but I can't wiggle your toes. The dichotomy is based largely on manipulation, even if basic biology tells us we've no more control over most of the trillions of cells in our body than over a rock or a tree.
Consider everything that you see around you right now — this page, for example, or your hands and fingers. Language and custom say that it all lies outside us in the external world. Yet we can't see anything through the vault of bone that surrounds our brain. Everything you see and experience — your body, the trees and sky — are part of an active process occurring in your mind. You are this process, not just that tiny part you control with motor neurons.
According to biocentrism, you're not an object — you're your consciousness. You're a unified being, not just your wriggling arm or foot, but part of a larger equation that includes all the colors, sensations and objects you perceive. If you divorce one side of the equation from the other, you cease to exist. Indeed, experiments confirm that particles only exist with real properties if they're observed. As the great physicist John Wheeler (who coined the word "black hole") said, "No phenomenon is a real phenomenon until it is an observed phenomenon." That's why in real experiments, the properties of matter — and space and time themselves — depend on the observer. Your consciousness isn't just part of the equation — the equation is you.
Even Steven Weinberg, who won the Nobel Prize in Physics in 1979, concedes that there's a problem with consciousness, and that despite the power of physical theory, the existence of consciousness doesn't seem derivable from physical laws.
"It will remain remarkable," said Nobelist Eugene Wigner, who helped lay the foundations for the theory of symmetries in quantum mechanics "in whatever way our future concepts may develop, that the very study of the external world led to the conclusion that the content of the consciousness is an ultimate reality."
The answer to life and the universe can't be found by looking through a telescope or examining the finches of the Galapagos. It lies much deeper. Our consciousness is the key to their existence, to space and time, and to the laws of nature itself. Our consciousness unifies the thinking and extended worlds into a coherent experience that creates the music — our emotions, the purposes, the good and the bad. It doesn't load the dice for you to play the game of life. True, there's pain and strife everywhere. But as Will Durant pointed out, we need to see "behind the strife, the friendly aid of neighbors, the rollicking joy of children and young men, the dances of vivacious girls, the willing sacrifices of parents and lovers, the patient bounty of the soil, and the renaissance of spring."
In whatever form it takes, life sings because it has a song. The meaning is in the lyrics.
Biocentrism and Beyond Biocentrism (BenBella Books) lay out Lanza's theory of everything.

Further Reading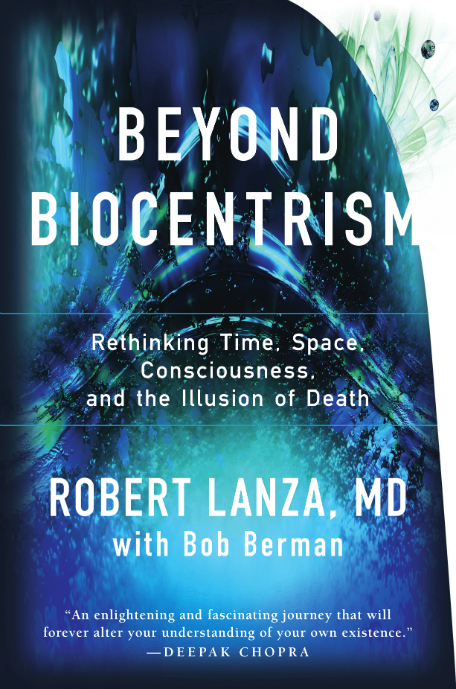 Beyond Biocentrism: Rethinking Time, Space, Consciousness, and the Illusion of Death
"
Beyond Biocentrism
is an enlightening and fascinating journey that will forever alter your understanding of your own existence."
—Deepak Chopra
"
Beyond Biocentrism
is a joyride through the history of science and cutting-edge physics, all with a very serious purpose: to find the long-overlooked connection between the conscious self and the universe around us."
—Corey Powell, ex editor-in-chief, Discover magazine
"Will machines ever achieve consciousness? Are plants aware? Is death an illusion? These are some of the big questions tackled in
Beyond Biocentrism
, which serves up a new, biology-based theory of everything that is as delightful to read as it is fascinating."
—Pamela Weintraub, ex editor-in-chief of OMNI Magazine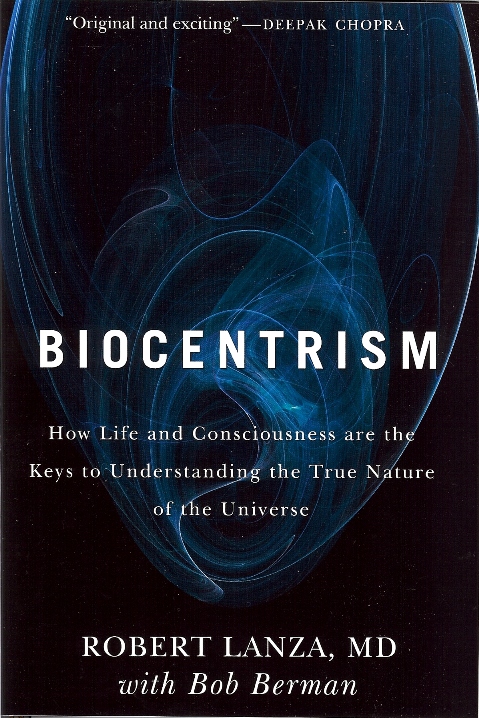 Biocentrism: How Life and Consciousness are the Keys to Understanding the True Nature of the Universe
Biocentrism takes you on a seemingly improbable but ultimately inescapable journey through a foreign universe‒our own‒from the viewpoints of an acclaimed biologist and a leading astronomer. It will shatter your ideas of life-time and space, and even death…you will never see reality the same again.
"Like
"A Brief History of Time"
it is indeed stimulating and brings biology into the whole. Any short statement does not do justice to such a scholarly work… Most importantly, it makes you think."
—Nobel Prize Winner E. Donnall Thomas